NEWSLETTER - NOVEMBER 2020
Firstly, apologies for the delay in sending this newsletter. We hope you are all keeping safe and well during these difficult times.
Weve been extremely busy in the Flower Fund Office these last few months. During lockdown the office worked from home, diverting calls away from the office. Lianne left BFFH at the end of May to concentrate on her business, and we welcomed Lisa to the team in April.
Just a reminder for Michael call outs, if you can please ensure social distance is maintained at all times. If you are suffering coronavirus symptoms or are isolating, it is vital that you advise the office of this when you call with any jobs that need doing.
Please do appreciate that during national lock downs / local tier 3 lockdowns, we can only carry out high priority jobs and there will inevitably be delays on certain jobs.
Office Hours
The office hours are Monday to Friday 9:30am - 12:30pm, contact number 01274 583763. Please leave a message if we do not answer or if it is outside of these times, we will ring you back as soon as we can. If there is an emergency, e.g. no heating, outside office hours please use your emergency contact list and contact the relevant contractor. Please do make sure it is an emergency as there is a charge incurred to the Flower Fund for all call outs.
Estate Representatives
Unfortunately we haven't been able to hold our regular meetings with our estate representatives, and this looks to be the case for sometime. As always, if you do need to raise anything, then please contact the office.
Miscellaneous
Carbon Monoxide detectors & Fire Alarms - As per your tenancy pack, it is recommended that these be tested on a regular basis, and at least every 2 weeks. Please ask a family member, friend or neighbour to test the detectors for you if you are unable to do it yourself. For battery operated alarms, in some cases it maybe necessary to replace the whole unit and not just the battery.
Milner Court - In April 2020 the Flower Fund purchased a new apartment block in Dallam Road, Shipley. The block has 10 apartment, 4 x 1 beds, 4 x 2 beds & 2 penthouses. Renovation works commenced in April for a number of months, and all apartments have now been tenanted. Please see photo below.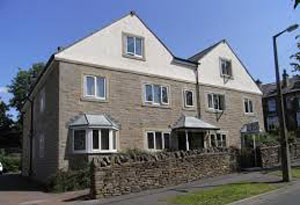 Signs - All estate entrance signs are in the process of being upgraded, and these will be in situ asap.
Fire Risk Assessments - These are in the process of being done by an external company for the landlords areas.
Gas and electrical inspections are up to date, and tenants notified of any actions.
Roof inspections for Mount, Court & Croft were carried out, and repair work has been completed.
Paths - Yellow step end painting is in the process of being done across all sites.
No pets - A polite reminder that Bradford Flower Fund properties are strictly no pets. Whilst we have no objection on tenants looking after pets for a day or so, but certainly not on a long term basis.
Parking - Tenants do not have their own designated parking spots, and we request that tenants and family members, park respectfully and be considerate towards others. Please always try and use the carparks provided.
Sheds and outside taps - Polite reminder that we don't allow either of these.
Gardens - We have noticed that some tenants have been cutting away at the turf near their homes, which isn't acceptable. The gardens belong to Bradford Flower Fund Homes, and any unauthorised alternations to the lawns and bushes will have to be put back as original, at the tenants' expense. David will be carrying out site inspections.
No feeding the animals - Can you please not leave any left overs for the animals in the grounds, as this is encouraging rodents.
Contact details - if you've recently changed your landline or mobile number, then please don't forget to let us know in the office.
Reporting jobs - If you have a job please always call the office so we can log, please do not catch any members of the team whilst they are onsite.
Safe and Sound - If you have safe and sound, and would like a key lock safe fitting, please let us know and we will organise this for you free of charge.
New tenants - If you are happy with Flower Fund, please do recommend us to family and friends. Applications can be done online, or via the office for an application form.
Call outs (MN / Contractors)
| | | |
| --- | --- | --- |
| | Total High/Med/Low | Total Maintenance |
| April - June | 74 | 39 |
| July – Sept | 95 | 120 |
High to low priority jobs carry a service level, whilst maintenance jobs do not.
In addition to the above, we have been working on 21 property renovations since April.
Feedback
If you'd like anything including in the next newsletter, then please don't hesitate to contact us.

With Kind Regards,
The Estate Management Team